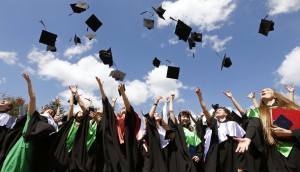 What experiences in college make someone more likely to thrive in career and life after graduation? In 2014, Purdue University, Gallup and the Lumina Foundation conducted massive research of recent college graduates to answer that exact question.
Not surprisingly, having an internship made it to the list of top 6 experiences that help a college student feel engaged in work and have a greater sense of well-being after college. Not only does an internship make you more competitive for great jobs, but it also allows you to test out your career interests before committing to a full-time permanent position.
"Graduates who strongly agree they had the following six experiences in college—which Gallup refers to as the "Big Six"—perform markedly better on every measure of long-term success compared with graduates who missed the mark on these experiences:" The Big Six are:
a professor who made them excited about learning
professors who cared about them as a person
a mentor who encouraged them to pursue their goals and dreams
worked on a long-term project
had a job or internship where they applied what they were learning
were extremely involved in extra-curricular activities
Check out more details about the 5 factors that will help you thrive after graduation and visit career services to get help securing an internship for summer. New internships are posted daily and it's not too late to land an opportunity!